Haier XShuai T370, Gyro Mapping, Voice Control
Posted:
July 28th, 2017, 8:03 am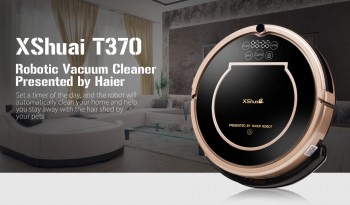 The
Haier XShuai T370
is currently produced and sold only as an
exclusive
product for
GearBest
, although there are several other Haier models, the T370 can only be found on the indicated seller. It has several improved things over regular cheap vacuums and some are worth mentioning. The first thing that attracted me is the "Gyro-navigation" which is used as a navigation-mapping sensor. It will be curios to see how it copes against the Xiaomi LIDAR as it's only half the price of that. Further on there are some improvements such as Nidec brushless vacuum motor which is more silent and powerful with much more longer life span and it's suction power that is rated to 1500Pa (ILIFE models only have a maximum of 850-1000Pa).
I'm personally thinking of giving it a test, I still have my ILIFE units and they all still work but i'm intregued about the gyro navigation.
Producers specifications and features
Main Features:
• Clean up the pet hair with ease
Featuring the 2-stage cleaning system, side brushes push the debris into the path to catch dirt and dust hiding along the walls, and the powerful motor offers up to 1500Pa suction to absorb the debris from all types of floor. Makes your home completely hair-free
• Intelligent route planning - Epson gyroscope navigation
Adopting the world famous Epson gyroscope to navigate the robot. The robot can calculate the room area, memorize the room layout of a room, which makes it never miss any area or corner
• Stay away from pet hair allergies - high-efficiency HEPA filter
The HEPA filter widely used in air purifier, is built in our robot, works to trap even the smallest dust and dirt
• Nidec brushless motor - electromagnetic induction without friction
The Nidec brushless motor spins up to 16500 r/m, and offers 1500Pa powerful suction. It features the low noise and ultra-long lifespan due to its zero friction system
• 14.8V 2600mAh Li-ion battery - 120min cleaning time
2600mAh large battery capacity ensures at least 120min cleaning time ( 90min for cleaning, 30min for finding the charging dock ) , is great for big house ( 120 - 150 square meters )
• APP control - support 10 languages
Use the APP to control your robot and get more fun, the APP will automatically identify the language of your mobile phone system
• Support
Amazon
Alexa - name your robot vacuum
Use the
Amazon
Alexa devices to control the robot by your voice, and name your little housekeeper
• 4 cleaning routes - meets all of your cleaning needs
Automatic cleaning: the robot changes the cleaning route according to the home layout
S-shaped cleaning: the most efficient cleaning route, cleans the room without repetition or omission
Spot cleaning: the robot spins around the center in spiral way
Edge cleaning: the robot cleans along the wall
• Wet / dry mopping - 300ml large water capacity
300ml water tank capacity is enough to mop the whole rooms
• Rubber universal wheel
The rubber material ensures the robot will not scratch or damage your floor
• Cleaning reservation
Simply make an appointment and go to work, when you get home, you home is completely free of dust
• Obstacle climbing
The large wheels are specially designed to work on the rough floor. It can also steadily climb 15-degree slope, the maximum climbing height is 1cm ( great for short-hair carpet )
• Anti-collision design
The infrared senor with mechanical sensor ensures that the robot will not bump or damage your delicate furniture
• Anti-drop design
The embedded anti-drop sensor can detect the location and change the direction in order to avoid falling
• Automatic recharging
When the power is about to run out, the robot will go back to the charging base
• Remote control
You can control the direction, choose the cleaning mode and make an appointment by the remote controller
• Ultra thin body
8cm slim body is designed to clean the areas under furniture that you cannot reach
• IML surface technology
The robot body features high hardness, prevents scratch, resists to wear and never fades
• Available floor types
Hardwood floor, carpet, tiles, under bed and under table